Whether you own a Class A motorhome or a camper, your RV entrance door locks play an important role in keeping your equipment secure. Any RV driver who has been locked out of their vehicle due to a faulty door lock will tell you the importance of a good RV door lock.
Fornd recommends RV entrance door lock for many reasons, but security is one of the most important.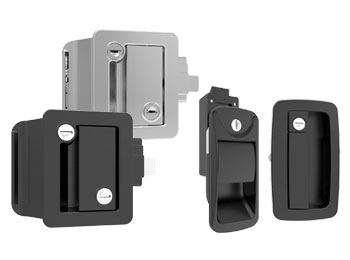 (Multiple styles of RV door locks)
There are two basic types of RV trailer door locks. Standard RV door locks with deadbolts and latches, and keyless RV door locks with keypads and keys.
RV mechanical door locks have a standard handle lock and a deadbolt. The handle lock helps prevent the latch or knob from opening, and when the door is locked, the deadbolt slides into the door frame through a large piece of metal on the door. Most Class A, Class B and Class C motorhomes and travel trailers come with mechanical door locks when you first purchase them.
You can also install keyless RV door locks on your device. These locks come with a digital keypad and a key fob that is set up so that you can open your RV doors with just one click. The mechanism of keyless RV door locks is the same as mechanical locks, the only difference is that you don't have to open and close them manually. You can also find wireless RV door locks on the market that can be connected to your phone (or smart device) via Bluetooth and operated through it. Keyless door locks work on batteries.
Let's face it, a broken RV door lock; it can be caused by wear and tear, weather changes, or just a low-quality locking mechanism. Broken RV door locks can fail in basically any way; the lock may not open from the inside or outside of the RV, or you may not be able to fully lock the door.
The only solution to repair a damaged RV door lock is to replace it with a high security RV door lock. You can refer to the guide above.
Modified at: 2023-08-05 03:47:27